A Truly Hidden Pantry
By Nancy July 25th, 2013
I was talking with a new acquaintance last week, and he told me the most wonderful story.  Well, as a kitchen designer, I think it's a most wonderful story.  You just might too, especially if you're short on pantry space.  I know very few people – unless of course they are a past kitchen design client of Sparrow & Stoll – who isn't short on pantry space.  Wink wink.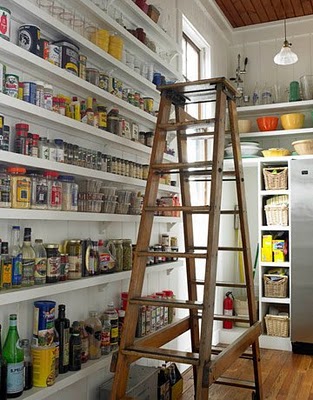 Anyway, the story goes something like this:
Twenty or so years ago, my new friend and his wife purchased an old house in St. Paul.  Think turn of the century old – last century of course.  An old house that had much of the original woodwork removed and hideous wall-to-wall carpeting installed over the wood floors.  One day while these new owners were surely doing some house project, a strange hand-written letter came for them which was postmarked in Arizona.  Not knowing anyone in Arizona, they were of course curious and opened it up.
The sender of the letter was the son of the man who grew up in the house from sometime like 1914 to the mid 1930s.  Since the man was getting on in years and coming to St. Paul for probably the last visit, could they stop by the house to show the son where he grew up and reminisce about his earlier years?  Well of course, answered my friend and his wife, and then until the visit they anxiously fretted about the lost woodwork and the wall-to-wall carpet and hoped that the elder gentleman would be proud that they had plans to return the house to its original state.  They simply hadn't lived there long enough yet to get the renovations done.
The day of the visit came and it was filled with the niceties that you might imagine when a previous resident comes to visit the new people in their house.  The elder gentleman did indeed have something to say about the lost woodwork: his family were the ones who ripped all of that beautiful woodwork out!  Maybe it was to put in the carpeting.  So much for the anxious fretting.
When they were showing him the kitchen, the elder man asked where the pantry was.  He remembered there being a pantry between the kitchen and the dining room and now it was gone.  Where did it go?  Upon close inspection and after knocking a few holes in the wall, it became apparent that another previous owner walled in the 3′ by 7′ space.  Since this pantry was adjacent to a chimney space nobody could tell that anything was missing.  In the remodel that followed the visit, the new owners were able to recapture over 20 square feet of space and add it back into the kitchen!  Thank goodness no skeletons were found in the closed-in space, and the mystery will always remain as to why someone hid the pantry.