Art and Too Much Art
By Lisa August 11th, 2013
Design Milk is a blog we follow that focuses on a modern vibe in furnishings, art and architecture.    They had a post this week that I just loved.  You can check it out at www.design-milk.com/blow-me-by-sebastian-errazuriz/.  The quote that caught my attention was said by Sebastian Errazuriz, the artist.  He says "We are becoming aesthetically obese."  It was such an "ah-ha" moment.  He is so right!  We are bombarded by images – everyone photographs and shares and Photoshops and shares and Tumblrs and Tweets and whatever else I don't know about yet!
When my kids were in elementary school, I was a Picture Person; a volunteer that learned about pieces of art from the Minneapolis Institute of Arts and presented reproductions to classrooms of students.  The art museum is peaceful, historical and filled with artifacts on or surrounded by white walls and the necessary amount of empty space to appreciate each piece.  Compared to the stores, fairs and online sites where most people see art now, the museum's approach is very skinny!  Not overly consumed, not overly jazzed up, just fresh art.  The beauty of something simplified, even if the something is not simple, should never be overlooked.
Make sure the art in your home can be noticed and appreciated, whether the artist is your child or Picasso. Have a calm week!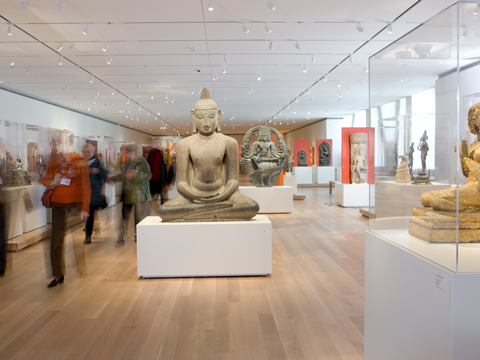 These images are from the Chicago Art Institute