Bring on Bedtime!
By Nancy November 9th, 2011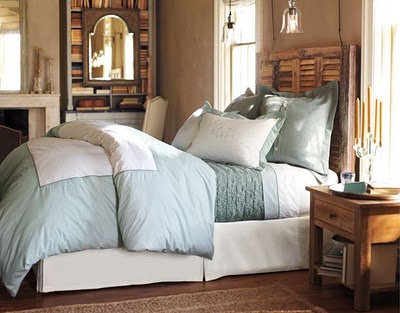 The bone-chilling cold and blizzards are right around the corner. Well, hopefully not for a little while yet, but they're coming! Here are a few ways to get your bed all cozy and inviting for the long winter nights.
1. Use a feather bed layered over a pillow-top mattress for extra height and comfort.
2. Coordinate your colors. Avoid a matchy-match look by mixing stripes, patterns, and solid bedding. Just be sure to stick with the same palette so it all ties together.
3. Add layers. After your fitted and flat sheet, add your favorite blanket, or use a quilt as a blanket. Then add a down comforter inside a duvet cover. Make sure the duvet cover isn't so heavy as to impede fluffing of the down.
4. Pile on some pillows. Start with your basic bed pillows in a neutral solid color for visual depth. Then add a row or two of plain and patterned pillows and follow with a couple of smaller decorative ones.
5. Add some good reading sconces on each side of the bed for snuggling in with the morning paper or a page-turning late night novel.
Sparrow and Stoll
loves to do one-hour color consultations. If you're stymied by all the color choices, give us a call!
The photo above is from
Pottery Barn
. They have got some beautiful bedding ensembles… even some pieces in velvet. How luxurious!