Color, Part Four, and (sigh) the end of the series…
By Nancy November 9th, 2009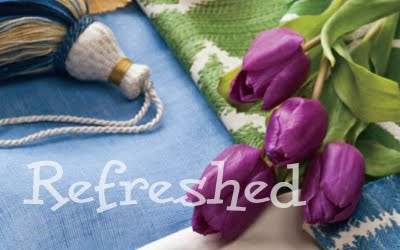 For the last of the four-part series on the Sherwin-Williams 2010 color trends, we're going to take a bit of a departure from the previous three! "Refreshed" is fresh, youthful, optimistic… a return to pretty things and romance and sunny days… it's the 1960's spirit with 1980's jewel tones. (Have you noticed the 80's comeback?) This kaleidoscope of unexpected colors might not suit everyone for a whole room decor, but a splash of these tones in some pillows and accessories against a neutral backdrop would be so much fun in a rather bohemian way!
The elements that fit this palette include nature-inspired themes such as butterflies and hummingbirds, flowers in full bloom, and high gloss finishes with light wood tones.
The Sherwin-Williams color names are (and I think the names say it all!):
Animated Coral (we've seen coral now in two of these palettes – coral is big for 2010)
Pickle
Fun Yellow
Sapphire
Summer Day
Verve Violet
That wraps it up for our four-part color trend series. I'm sure we'll be back a year from now with new color trends, and it will be interesting to see how things change throughout 2010 and what the influences will be on the 2011 palette. Although it's fun to look at what the trends are, you need to decide what YOUR favorite colors are and what YOU want to decorate with! Enjoy!