Color, Part Three!
By Nancy November 2nd, 2009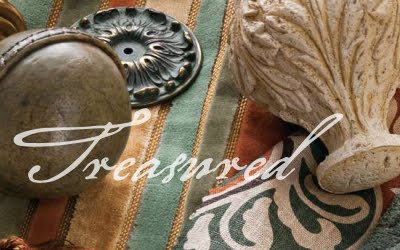 We've covered two trends so far, "Rooted" and "Simplicity", and today's category in the 2010 color trend preview is "Treasured". This style embraces the growing "use what we have" mentality of re-purposing and takes inspiration from flea-market finds, artisan-made objects, and heirloom pieces. Imperfections can lend richness to our environment in the forms of natural aging and weathering… think of the patina of copper and worn leather.
The Sherwin-Williams colors chosen to reflect this trend are:
Interactive Cream – reminiscent of aged vellum and old books
Gallery Green – not the sagey greens of the last several years… picture the color of old green shutters in Italy or France
Caribbean Coral – this has the feel of a comfortably faded Hawaiian shirt
Sequin – an enigmatic yellow-green
Smoky Blue – muted, like faded denim
Sturdy Brown – earthy in the way of a vintage sepia photograph
The psychology behind this trend – reclaimed, renewed, reborn – is one that Lisa and I whole-heartedly embrace in the design philosophy of our "Shop Your House" program. By looking at client's existing pieces with a fresh eye, we're able to reuse much of what is already there just by moving things around and mixing things up to freshen the space and give it an entirely new look and feel. Throwaway is so yesterday!