Happy Thanksgiving!
By Lisa November 23rd, 2011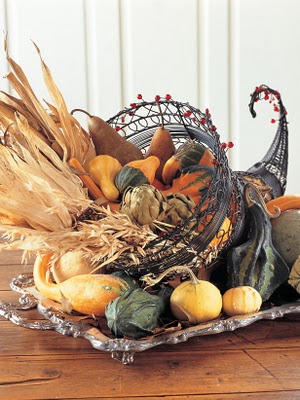 If you've still got some time before company arrives tomorrow, don't confine the cornucopia to the table – there's probably not room for it anyway once the food is served. A cornucopia, or horn of plenty, filled with a fall arrangement will make be warm and welcoming in the front foyer or guest bedroom. It might even be fun to roll up some hand towels and have it on the guest bath vanity, if it's big enough to put a few small towels in.
If you're a guest at someone's home this Thanksgiving, fill a small cornucopia with cookies or jams, chocolates or tea for a lovely hostess gift.
Happy Thanksgiving from Sparrow and Stoll!