If Walls Could Talk…
By Nancy August 8th, 2012
If walls could talk, we might not always want to hear what they say!  Sometimes walls DO talk though, in their own way, and every house has a story.
Sparrow and Stoll recently completed a design for an extensive remodel of a kitchen and its adjoining spaces for a house in Edina.  The house was built in the 1940s – a mid-century rambler with a tuckunder garage.  Nothing particularly unique about that.  We stopped in a few days ago to check in with Josh, the contractor from Vertical Grain Builders, just to see how things are shaping up and because we love to see the changes in progress that we've been envisioning.  We arrived at the perfect time:  after demolition and rough-ins but before sheetrocking. 
This is what we found: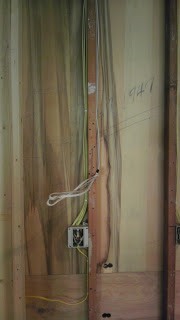 In case you can't see what it says…  it is written on the original plywood sheathing:  "November 17, 1947" and the names of the Mr. and Mrs. Johnson who were the owners of that home.  How awesome is that?  Now we can't help but wonder about Mr. and Mrs. Johnson and what they would think about the changes that are being made to the house for the new family that lives there.  I hope the Johnsons would agree with us that it was high time for the Easter-egg wallpaper and sunshine-yellow carpet to be removed.  Sure, it was a time for optimism back then, but wow, that wallpaper was a sight to behold.
Several years ago we designed a full second-story addition for a one-and-a-half story in St. Paul near Hamline University.  The house was built in 1945.  I will always remember that because the carpenter came back to the office one day with a treasure trove of newspapers from May 1945, as the original walls were insulated with newspaper.  It was fascinating to read stories of the war and to see ads for products that no longer exist.  It didn't take long for those newspapers to disintegrate, but we had fun while they lasted!
Anyway, the Johnson's house – which is no longer the Johnson's house – is still under construction and we'll post before and after photos in a couple of months.  There are new signatures and a new date next to the Johnsons.  In another 65 years, or whenever the next major renovation is, somebody will find more talking walls and perhaps wonder about this family and the people who made the changes.