Mark Your Calendars! The Remodelers Showcase is Here Again
By Nancy September 11th, 2013
For almost 30 years the local Remodeler's Showcase tour has helped countless people envision possibilities for their kitchen, bathroom, or their whole house.  Being able to see a remodeling project in a house like yours, in a neighborhood as old as yours, or in the same architectural style gives ideas for an existing home that a tour of new construction can't.
Sparrow and Stoll, LLC, teaming up with Tim Lemke Construction, Inc. is showing a newly remodeled kitchen and family room in the Remodeler's Showcase tour this September.  The refreshing update provides a more open, functional layout and style for an active family of four in this 1990s-built Eagan home.
Together with the homeowners, a strategic plan was formulated to create more space while keeping an open flow through the main level spaces. The kitchen saw a huge improvement in traffic patterns with the stove moved to the corner and the other appliances relocated for usability.  The sink was moved to a new, larger island which added additional counter space and storage.  Underneath the island, Ecoresin panels were used to give an earthy, natural look and offer a unique view of the kitchen from the family room.   A charging station incorporated into the pantry area hides the unsightly cords of the family's everyday electronics.  Glare-blocking sunshades keep the beautiful backyard views open.  Stunning Cambria countertops, newly refinished oak floors, stainless appliances, a glass hood and a chic glass and stone backsplash are used to create a transitional style with a bit of contemporary vibe.
In the mudroom, four lockers were added to provide storage for each family member while a pet-feeding station was placed underneath the bench, hidden from sight but perfectly practical for their small dog. The window was moved and the doorway adjusted to render more space and form an open entry to the kitchen.
The family room, open to the kitchen, also had its own makeover.  A plain and boring fireplace was enhanced with bookcases, a Cambria surround, and fabulous wall sconces create a focal point as well as an intimate family sitting area.  The adjoining living room, with antique furnishings, mimics the family room in color and flow to create a harmonious space.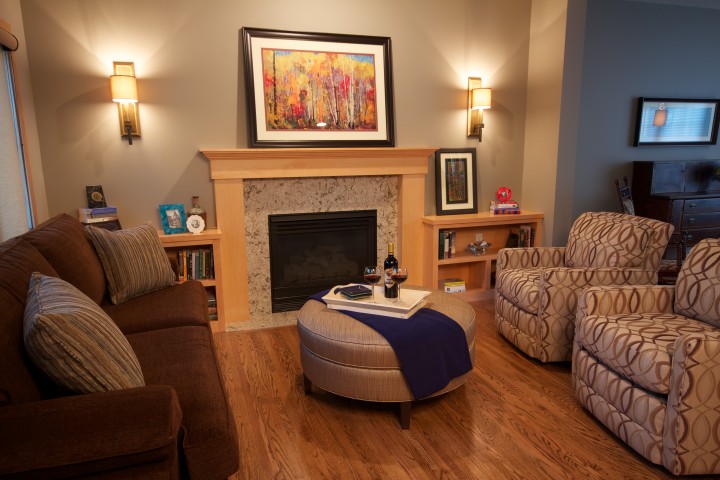 Beautiful light fixtures, blended hues in the finishes and fabrics, and seamless oak flooring throughout give the transitional home a balanced and beautiful charm.
Visit us, in this home, during the Parade of Homes Remodeler's Showcase, September 27 – 20, entry #R17.  Click HERE for more information about this tour home.