New Year's Resolutions
By Nancy January 2nd, 2012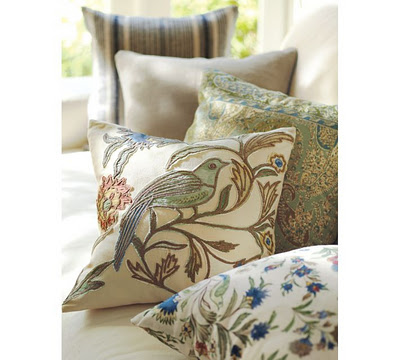 I'm leafing through the latest Pottery Barn catalog, and as always, there are some lovely new items. What I wanted to share with you though are some of the resolutions they have sprinkled throughout, with some additional thoughts of my own.
# 1. Get more sleep. An uncluttered bedroom with an invitingly warm and cozy bed is more restful, as is removing the tv from the room. That's sometimes a tough sell, I know.
# 2. Have more family meals. Start with a table that seats the whole family comforably. If someone has to sit at the cutting board, it's time to make a change.
# 5. Change your style. Now we're talking. That's where
Sparrow and Stoll
come in. As much as we like Pottery Barn, we don't think it's the best idea to feel like you're living in a catalog setting. Mix it up, make it your own. (Refrain from pointing to a catalog page and saying "I'll take it all!")
# 6. Make every detail count. The details are where your personality shines through in any design. Cabinet hardware, beading on a window treatment, a family heirloom piece puts your stamp on your home.
# 8. Update your bathroom. A fresh coat of paint and just a few new fixtures makes a huge impact in a small room.
Happy 2012!