Project Spotlight – 1948 Edina Rambler
By Nancy April 11th, 2013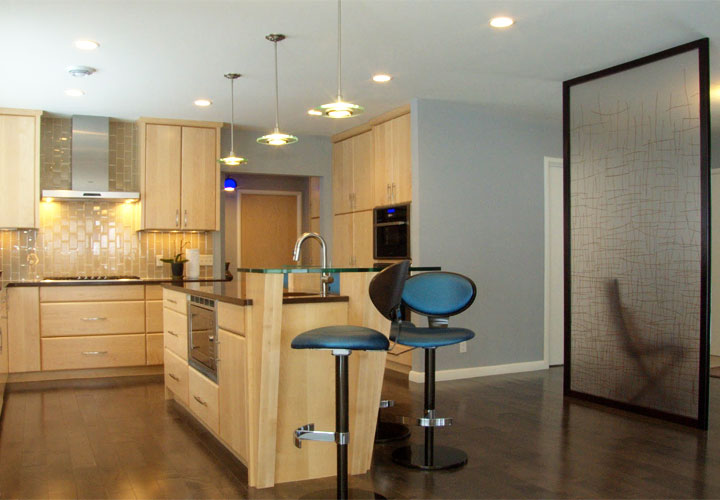 1948 Edina rambler
This unique 1948 Edina rambler was built with a modern influence, but a 1970's update left it with shaggy yellow carpet and wild wallpaper reminiscent of brightly dyed easter eggs. The new owners were looking to update the finishes and change the layout to work for their family. Originally built with many small rooms, the house felt closed-in and the separate "children's eating room" was not the new owner's idea of family-friendly.
Opening up the kitchen, dining, living, foyer, and back hall spaces to each other presents its own set of challenges which Sparrow and Stoll met by creative use of translucent panels to delineate space and block views. The light maple cabinetry is offset with wenge wood accent pieces and a charcoal-toned maple floor. Hardworking Cambria countertops are complemented with a raised glass island top and glass tile backsplash, and a consistent wall color throughout the areas unites them and creates an easy, open flow.
AFTER
From the foyer, the view of the kitchen is obstructed but natural light from the large window can shine through.

AFTER

BEFORE
The window in the "Before" picture is the same opening as in the "After" picture.  The glass was replaced with a panel that lets light in while still obscuring the view of the back entry.
AFTER