The Gift of the Crane
By Nancy September 5th, 2013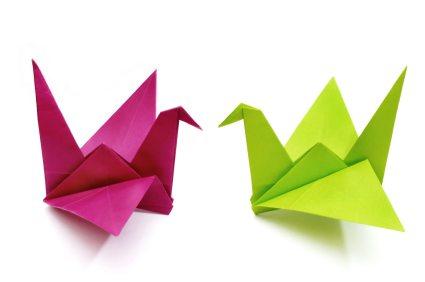 We've been working on a really fun project, turning what once served as a walk-in closet into something completely different:  a kind-of retreat space for our client to relax in, but also to spread out craft projects, catch up on reading or work that is brought home, and be surrounded by personal treasures that she's found on travels or that have been given to her by special people in her life.  It's turning into a fantastic space and I wish I had one just like it for myself!
Lisa and I went there earlier this week to help her accessorize and to see what's needed to complete the space.  When we walked into the room we saw a wonderful piece of art that hadn't been there before…  a fantastic origami crane mobile, handmade by her young friend Nica who had learned how to make the mobile in school.  Having a swatch of the fabric we chose for the window treatment and room divider drape, Nica did a great job of choosing the paper colors to coordinate with scheme of the room.  We hung the mobile over the desk area where it can be seen while working, but also will be visible from the craft and sitting area.  It's the greatest of accessory pieces:  one that has personal meaning as well as visual interest.
Japanese folklore states that cranes live 1,000 years; the origami crane symbolizes long life, happiness, good luck and peace.  An ancient Japanese legend says that anyone who folds a thousand origami cranes will be granted a wish, eternal good luck, or recovery from illness or injury.  This makes them popular gifts for special friends and family.  I don't know if Nica knows the legend of the crane, but it certainly is a special gift!
To learn how to make an origami crane, and to read the story of Hiroshima victim, Sadako Sasaki, who folded 1,000 cranes at age 12, read on:  http://origamiancy.com/2009/11/origami-cranes/