The New Colors are Here!
By Nancy October 19th, 2009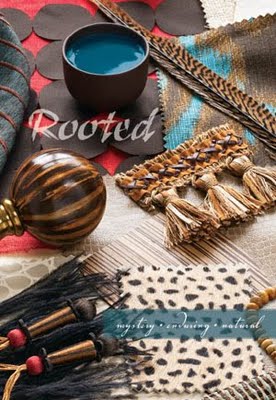 There are many things I love about this time of year, but one of the most exciting is that the next year's color trends are announced! As designers, we see colors come and go, and come back again, sometimes in slightly different shades. Based on a wide variety of factors, color trends are largely influenced by the economy and people's confidence in the economy, social trends (such as energy efficiency and the "green movement"), and even technology. Color forecasting is an absolutely fascinating topic, and one that I'm sure I'll write more about sometime! For now, I'm just going to focus on what the trends are for 2010.
Each year a new earth-toned palette is introduced, and I'm really excited about this one! Sherwin-Williams calls this rich and earthy collection "Rooted", and I love their explanation: "in today's complicated world, there's something deeply satisfying about re-exploring the world's oldest, most enduring cultures. African, Aboriginal and Native American influences are converging to create a new tribal style with a drumbeat all its own." Think animal prints and skins, feathers and fringe, and ethnic patterns to play a big part in this palette as well. Sounds fun!
The color names for this new Sherwin-Williams collection are:

Oceanside – a luxurious turquoise
Foothills – a rich taupe
Nomadic Desert – a lovely soft neutral
Darkroom – think espresso
Rookwood Amber – a delicious caramel color
Red Tomato – sumptuously warm

Check back next Monday for Part Two in this four-part color trend series.