What's New With Kitchen Sinks?
By Lisa July 11th, 2018
Maybe it's been a while since you've shopped for kitchen sinks, or maybe you're in the middle of redesigning your kitchen and are overwhelmed by all of the choices. We'd like to tell you about a few new and creative updates that we really like!
The Kohler Prolific is a deep, single bowl stainless steel undermount sink. It's huge! Perfect for soaking big roasting pans. But the greatest feature of the Prolific sink is the ridged design at the front and back of the sink, meant to hold the cutting board, racks, colandar and washbin. Slide them around to where you want them, take some out, put others back in, or have one gigantic bowl, it's up to you! The Prolific is available in multiple sizes – from a relatively compact 24″ to more standard 29″ and 33″ widths, all the way up to a 44″ wide sink.
Also by Kohler, the Riverby cast iron sink has multiple accessories that fit on a small ledge just below the countertop. Available accessories are a cutting board, rinsing colandar and utility rack with soaking cup. The Riverby is available in an undermount version as shown, but also in a top-mount sink and in several beautiful Kohler cast iron colors.
The Valea is one offering by Blanco with the low divider. Who fills the whole sink with water anyway? This works great for being able to soak pans with handles and still have the other bowl free and clear. For those who aren't ready to make the leap to a single bowl sink, this might be a great choice! The granite composite material is quite scratch resistant, comes in a variety of colors, and is a good alternative to stainless and cast iron.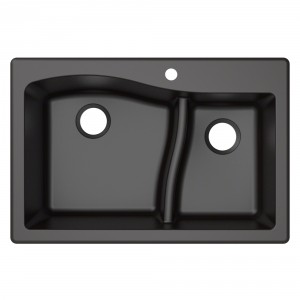 Also a composite sink, this model by Kraus has a curved low divide and a configuration that gives a larger washing bowl with space left over for rinsing.
Kraus Quarza
There's even something new for the drain! Elkay has come up with an edgeless drain which eliminates the ring around the drain basket that gets all nasty over time. This streamlined look functions the same as any other strainer basket but is much easier to keep clean! This is available on several Elkay stainless and composite sink models for the kitchen, bar and laundry.